This is my Monthly Results Roundup post on the pre-game bets I posted on Scorum along with the tracked bets for the SBC League.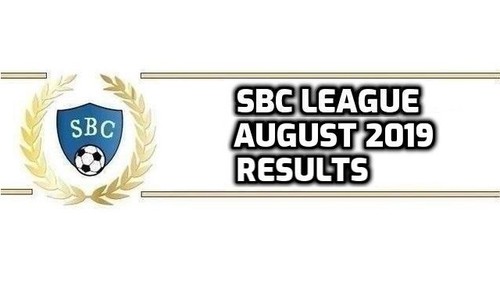 August was the first full month where the main League I handicap was ongoing again and it was a great one! Usually, the start of the season offers plenty of profitable betting opportunities when you are on top of your league following everything that's going on closely.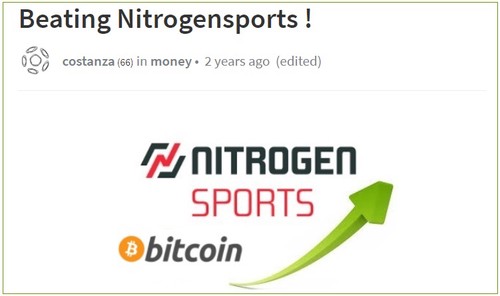 It has been over 2 years since I first made a plan to use some of my long-term BTC holdings to use and beat Nitrogensports having quite some confidence this would be a +EV move. I managed to add Sportsbet.io as an alternative BTC Bookie to shop for the best line.

We are now 22+ monthly reports later having shared 253 Pre-Game Bets with a lot of ups and downs never really changing the plan. About +0.0933 BTC of Profit has been made good for a +3.5% ROI which is exactly at the point of expectations. It could have been a lot higher if I just stuck to my Belgian League bets instead of also having NFL & NBA bets which I no longer do now. If anything, this extreme consistency sticking to a solid plan really works for me and blogging is the perfect tool to help me maintain it!

I do plan to continue like this and see where it all goes in the future. I managed to pick up some followers on Copytip where these bet recommendations along with the live bets I share on the SBC Discord can be followed automatically at the same odds I'm getting and it remains to be seen if this has any influence on the odds making them harder to follow from now on.


---

SBC LEAGUE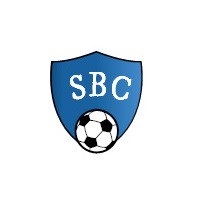 It continues to look like few are actually interested in using their blog to get better in their own betting by closely documenting their bets while keeping a record. The SBC League just continues and anyone who wants is welcome to join. I'm also always looking to real sports bettors who use or are planning to try these platforms to get better in their betting so I can show some support. The platforms I'm on are Steemit / sportstalk.social / Scorum

---
August 2019 BTC Betting Record
10 Bets | 7W-3L-0P | 0.100 BTC Staked | -0.03386 BTCProfit | +33.86% ROI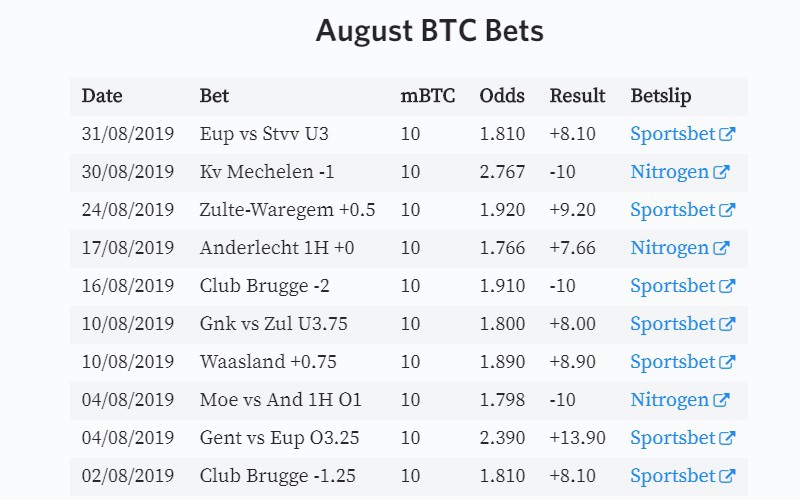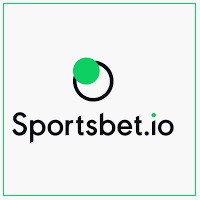 Sportsbet.io has turned in into the BTC only bookie I use the most for my bets as they are an excellent option for anyone who is very selective in their bets. They are also offering Asian handicaps which are the bets I most of the time am looking for.
---
Previous Scorum BTC Bets Records
Aug 2019 | 07W-03L-00P | 100 mBTC Staked | +33.86 Profit | +33.86 % ROI
July 2019 | 02W-00L-00P | 20 mBTC Staked | +18 Profit | +90.0 % ROI
Jun 2019 | 00W-00L-00P | 00 mBTC Staked |+00 Profit | +0.00% ROI
May 2019 | 00W-05L-2P | 70 mBTC Staked |-50 Loss | -71.43% ROI
Apr 2019 | 03W-02L-0P | 50 mBTC Staked | +24.17 Profit | +48.34% ROI
Mar 2019 | 03W-03L-1P | 70 mBTC Staked | +4.12 Profit | +5.89% ROI
Feb 2019 | 04W-02L-0P | 60 mBTC Staked | +23.21 Profit | +23.21% ROI
Jan 2019 | 01W-09L-0P | 100 mBTC Staked | -79.64 Loss | -79.64% ROI
Dec 2018 | 04W-10L-1P | 150 mBTC Staked | -58.88 Loss | -39.25% ROI
Nov 2018 | 07W-10L-0P | 170 mBTC Staked | -32.17 Loss | -18.92% ROI
Oct 2018 | 06W-09L-0P | 150 mBTC Staked | -28.29 Loss | -18.86% ROI
Sep 2018 | 13W-0L-1P | 140 mBTC Staked | +141.82 Profit | +101.3% ROI
Aug 2018 | 5W-1L-2P | 80 mBTC Staked | +45.47 Profit | +56.84% ROI
July 2018 | 7W-4L-0P | 110 mBTC Staked | +44.79 Profit | +40.71% ROI
Total | 62W-48L-7P | 1.220 BTC Staked | +0.08646 BTC Profit | +7.09% ROI

---