I try to keep informed of the projects that offer Sports betting on a blockchain and make an overview of news, listings, price evolution,... on a consistent monthly basis. This is what happened in November & December 2019!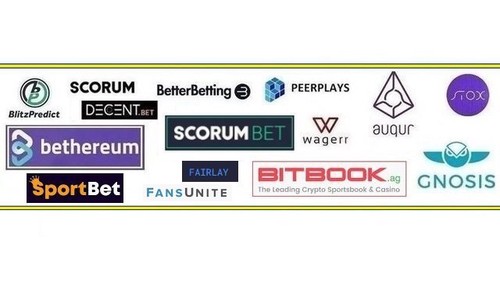 News Overview
The space of Sports Betting Crypto Blockchain projects continues to slowly move forward. Things aren't at a level yet where they can rival with Sportmarket Pro which is what I'm using on a daily basis as a more serious player, but options are increasing and the best odds can frequently be found on some of these platforms. Pretty much all coins continued to go down during this altcoin bear market.
Here is a short Odds comparison between some of the working crypto betting options...

Leicester vs Liverpool 1x2 odds comparison (Currency)

Sportmarket Pro | 3.491 | 3.840 | 2.163 | (EURO)
Nitrogensports | 3.369 | 3.840 | 2.097 | (BTC)
Sportsbet.io | 3.350 | 3.700 | 2.090 | (BTC-ETH-...)
Sportbet.one | 3.370 | 3.720 | 2.020 | (EOS-BTC-SBET)
Betterbetting | 3.514 | 3.840 | 2.158 | (EOS-ETH-BETR)
Wagerr | 3.390 | 3.820 | 2.100 | (WGR)
---
Project News Updates

Betterbetting
A lot has been going on with betterbetting during the past months. unfortunately, it's not all that good news even though I still like what they are developing as the provided odds will be competitive. They basically connect bookies with players allowing those to bet using crypto as every bet is processed in their native BETR token. This means the value should go up when more people use the platform. The Slow Ethereum Blockchain and high Gas fees remain a big bottleneck for them currently but they are looking to fix that by moving elsewhere. (possibly EOS which is currently already supported)

Their platform is online (Betr.bet) and operational for everyone to use and they are covering the Gas costs when betting in EOS or BETR. I took another tiny bet with them successfully on the NFL last Sunday (See Post)

It is a very small cap project and the BETR token had huge fluctuations in price during the last few months. It went to an all-time low of 0.000196$ to show some signs of life pumping to 0.001499$ (+664%) to dump back in a couple of days down to 0.000298$ (-80%).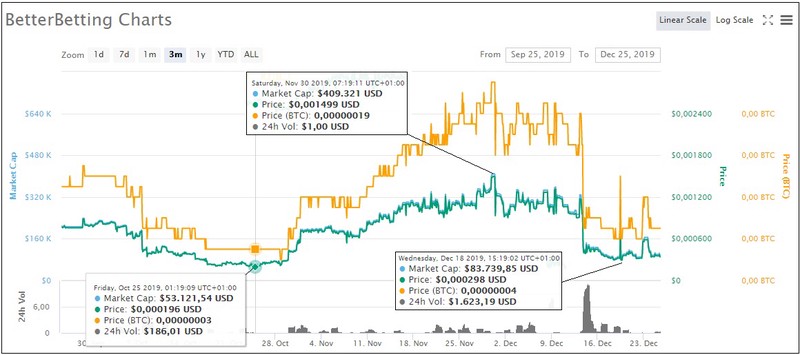 I've been following on their telegram what happened and there has been an official update around the pump and dump (see article). They basically allowed themselves to get scammed for 5 Million BETR by an Asian exchange who promised them listing and promotion but instead just dumped everything they received on the market. The damage in terms of the monetary amount was only around 10k $. Things like this don't really help the confidence levels in the team though if this is actually what happened. I will continue to keep my eye on this one closely.


---
FansUnite
Fansunite is an ICO project from way back I have mentioned when I started covering Blockchain Sports betting projects. It has been in the 'Unlisted Projects' below for the longest time and they now out of nowhere came with a test version of a bookie they build on the Ethereum Kovan Test Network. It can be found over at sportsbook.fansunite.com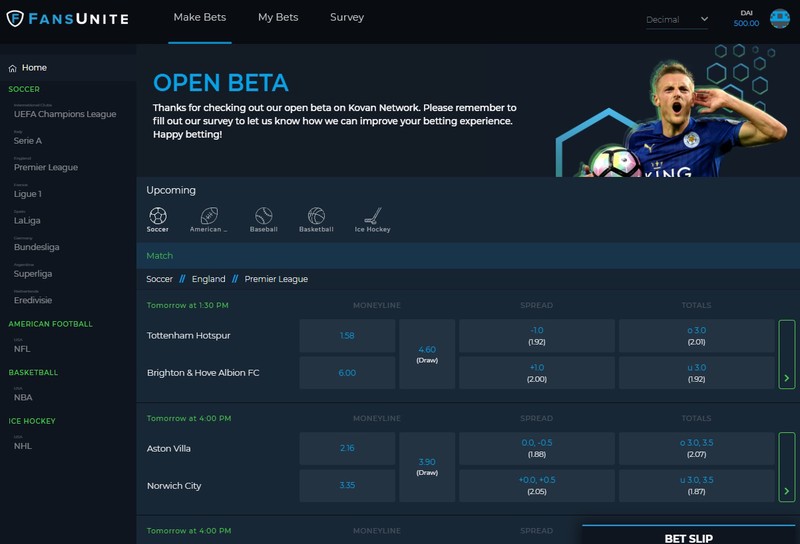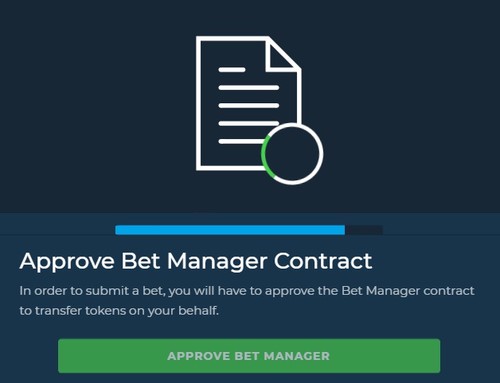 The odds they offer seem to be good at first sight and I tried to test it out but basically got stuck confirming the bet manager contract after successfully getting some test dai and ETH in my Metamask on the Kovan test network. Things like this remain a huge issue for the adoption of crypto as it's simply too complicated or doesn't work properly at the first try. The FANS token is not yet listed anywhere but I will also continue to watch coinmarketcap for it. I won't be putting more time in trying to test out the platform for now.

In old news, I just picked up it that they partnered up with EPL team Leicester City last season. more on this can be found on (Google Search)
---
WAGERR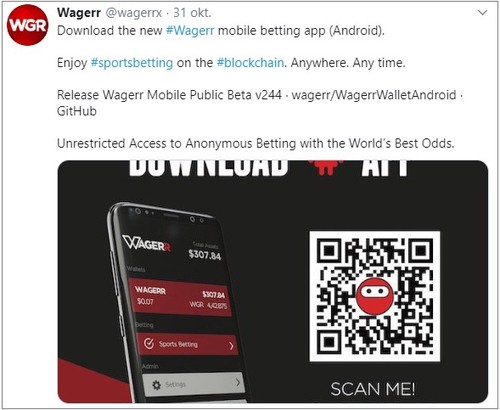 Wagerr released a mobile wallet on IOS and Android. I installed that to test it out but assuming it was going to be possible to take bets on their platform without having to download the entire chain. It seems it's only a wallet though so not really all that useful. The Desktop Electron wallet got updated to v1.2 which still required to sync which now can also be done faster by downloading a snapshot instead of a full p2p sync.

They also recently added Eredivisie Betting markets and I'm hoping the Belgian Jupiler League will follow. I actually haven't placed a bet with them the last year as 6% Juice never really makes their odds all too competitive with what I have available and I'm currently not betting the markets they offer all too much. I do like how they keep track of their betting volumes weekly which is key for any project to succeed. They post a weekly update on news.wagerr.com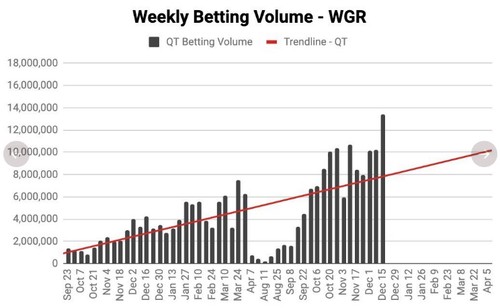 Overall the Wagerr project is moving forward and made some good progress the last year and I'm looking forward to what they will bring in 2020. They have a burn mechanism where part of the feels gets burned for each bet. So far 6 Million WGR has been minted though because bettors are up against their bookie. This can be followed on their explorer.wagerr.com website.

---
SCORUM
The story of Scorum remains the same month after month. They technically still by far have the best working sports betting exchange with Betscorum while the blogging platform visually is by far the best looking compared to all the others. Yet Development is totally non-existing and there haven't been signs of life from the team for a long time. It won't be long before Witnesses start closing down their nodes if there are no big updates soon. The only hope I have left is the project getting sold to someone who is actually willing to develop and manage it properly.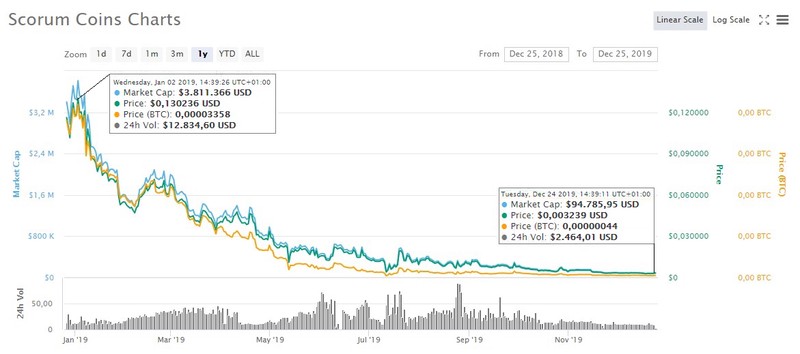 The price is down from 0.13$ at the start of the year to 0.0033$ right now which is a 97% decrease which pretty much paints the picture of everyone except a couple of feels having totally given up on it. RIP SCORUM

---
SPORTBET.ONE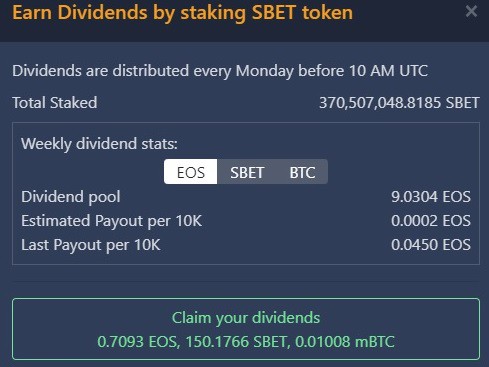 I continue to like what it is that sportbet.one is offering on EOS and plan to do a full breakdown on the bookie and the SBET token which gives weekly Dividend payouts to those who stake them. they now offer free CPU for their users which solves the EOS congestion problems and seem to have partnered up with an anti-match-fixing product federbet in order to avoid losses from fixed matches.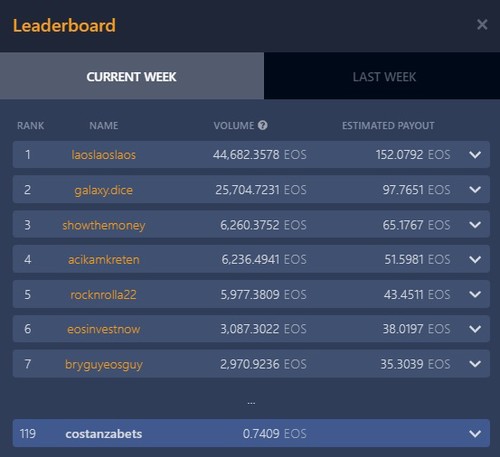 The main problem remains the number of users they actually have which is limited. They have a leaderboard and I ranked 119 after taking a tiny 0.7409 EOS bet. The SBET price is heavily linked to the Dividends which mainly comes from a couple of accounts they have really big turnovers. Based on the current price and the dividends from last week they currently give a 0.677% Return. Big price fluctuations can be expected. SBET can be traded on Newdex.io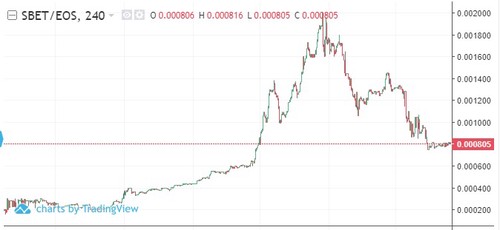 ---
WINK
I haven't played all that much attention to TRON but it seems popular for gambling dapps. Wink.org is a working bookie there.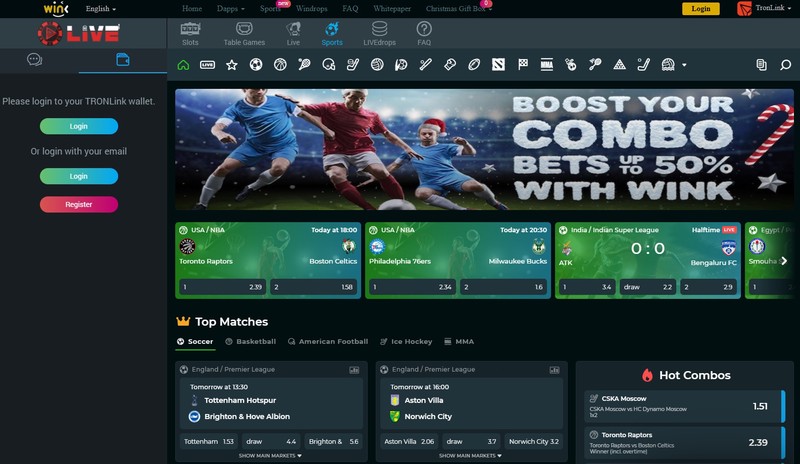 ---
FAIRLAY
I had the link to Fairlay in my favorites for a while but had not looked into it as it didn't appeal to me all that much at first sight similar to how I'm not sold on something like Augur. They seem to be a Betfair type of exchange operating in BTC. It does look like having some potential and there is actually some betting going on. It is however not enough for me to actually move some BTC over testing it out. It is another one I will keep an eye out for though. They have a 0.5% commission rate and very much have a Betfair feel to them. So far exchanges with crypto fail to provide consistent good odds and liquidity due to lack of users.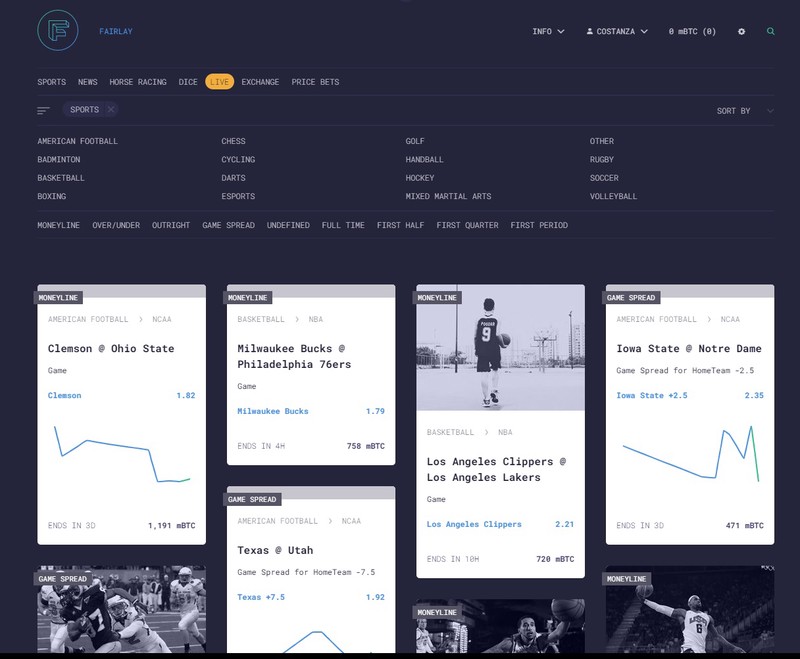 ---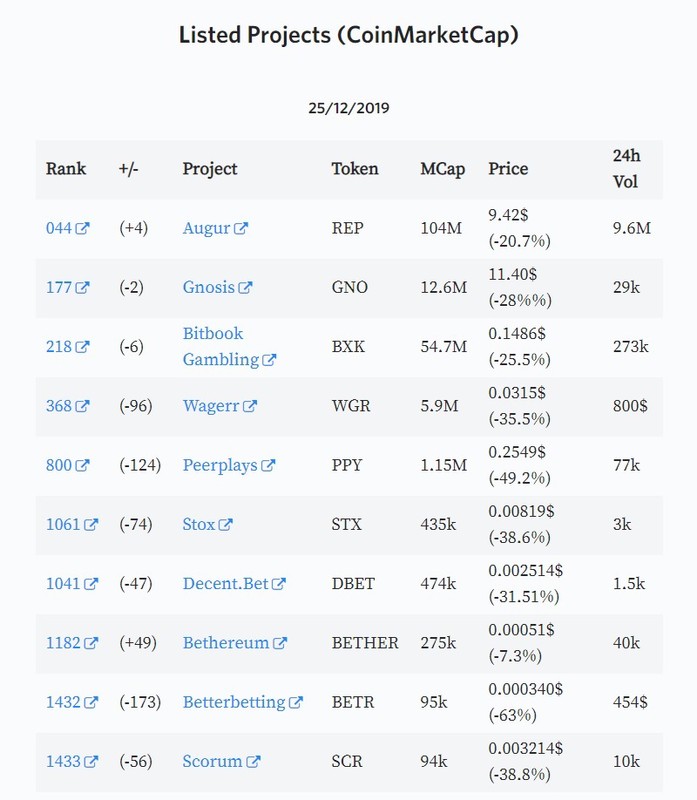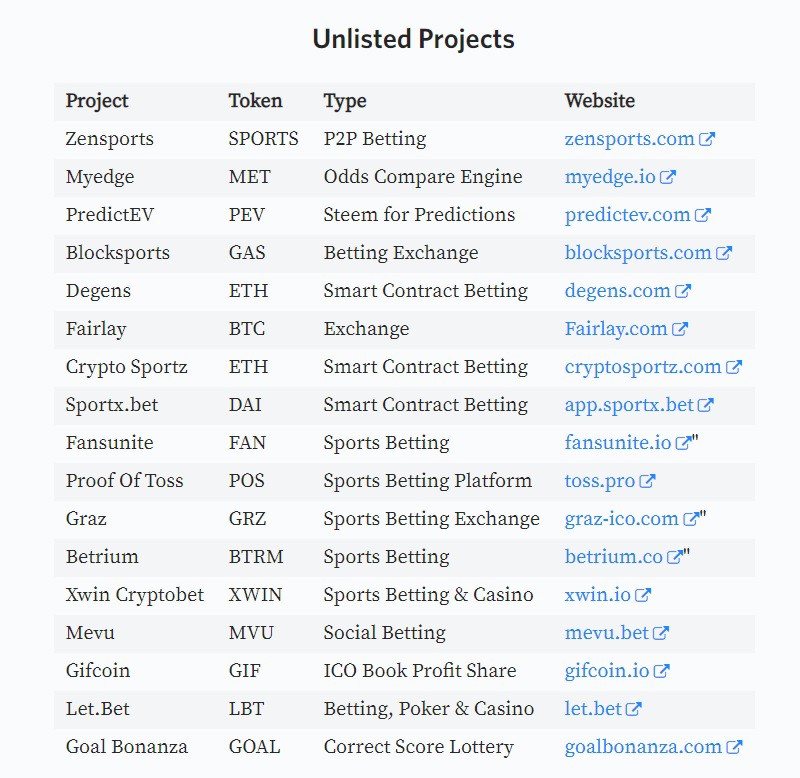 ---
Previous Months
Sports Betting Blockchain October 2019 Update
Sports Betting Blockchain September 2019 Update
Sports Betting Blockchain August 2019 Update
Sports Betting Blockchain July 2019 Update
Sports Betting Blockchain Jun 2019 Update
Sports Betting Blockchain May 2019 Update
Sports Betting Blockchain Apr 2019 Update
Sports Betting Blockchain Mar 2019 Update
Sports Betting Blockchain Feb 2019 Update
Sports Betting Blockchain Jan 2019 Update
Sports Betting Blockchain Dec 2018 Update
Sports Betting Blockchain Nov 2018 Update
Sports Betting Blockchain Oct 2018 Update
Sports Betting Blockchain Sep 2018 Update
Sports Betting Blockchain Aug 2018 Update
Sports Betting Blockchain Jun 2018 Update
Sports Betting Blockchain May 2018 Update
Sports Betting Blockchain Apr 2018 Update
---
Feel free to let me know in the comments if there are newer blockchain projects you know of that have something do do with Sports Betting that has not been added yet to my list.